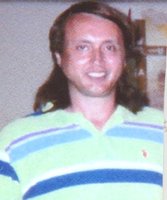 Daniel Todd Lockwood
Daniel Todd Lockwood was born September 10, 1967 in Gary, Indiana to Richard Lockwood and Nell Richardson Lockwood. He at last found peace in the welcoming arms of his heavenly father on December 23, 2017 at his home at the age of 50 years, 3 months and 13 days.
He served in the US Air Force during Desert Storm as a military policeman. He thoroughly enjoyed watching football and wrestling on TV.
Dan leaves to hold dear his memory his mother, Nell Lockwood of Idabel, OK; his father, Richard Lockwood of Indiana; a son, Daniel Langton; a grandson, Hayden Langton both of Enid, OK; numerous cousins, aunts and uncles and his good friend, Virgil Strawn.